Blank And Secure per Windows 7 (32/64 bit)

Blank And Secure per Windows 7 garantisce la rimozione completa e definitiva dei dati da un computer, laptop, netbook. Dopo il lavoro del software, non sarà possibile recuperare informazioni anche con utilità speciali. Un effetto simile si ottiene attraverso la riscrittura multipla.
L'uso eccessivo del software porta a un guasto prematuro del disco rigido. Il software è semplice, facile da usare, adatto a tutti. Puoi scaricare gratuito Blank And Secure ufficiale ultima versione per Windows 7 in Italiano.
DOWNLOAD GRATIS
Informazioni tecniche Blank And Secure
Licenza software: FreeWare
Le lingue: Italiano (it), Inglese
Software di pubblicazione: Nenad Hrg
Gadget: PC desktop computer, Ultrabook, laptop (Acer, ASUS, DELL, Lenovo, Samsung, Toshiba, HP, MSI)
Sistema operativo: Windows 7 Ultimate / Enterprise / Professional/ Home Premium / Home Basic / Starter / Service Pack 1 (SP1) (32/64 bit), x86
Blank And Secure nuova completo versione (Full) 2021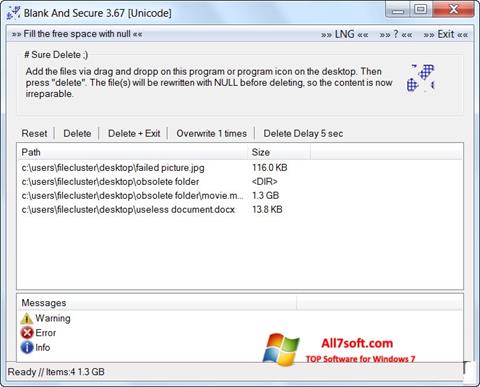 Software correlato
Recensioni